I haven't posted a good looking new church in a long time, so, here's some Florida sunshine for the beholder.
Thanks to Deacon Jeffrey BeBeau, a commentor on
this post
from The New Liturgical Movement, we see this beautiful new church under construction.
This is
Saint Paul Church
in Pensacola, Florida. Quite nice! Let's take a look inside, shall we?
So far, this looks good. Really good. Now, of course, the disclaimer on the web page says,
Please remember these are conceptual drawings, and the actual building will appear differently as design continues to develop
. As long as St. Paul Parish and diocesan officials keep Vosko and the like out of the picture, the end result, I'm sure, will be very good.
Click on the picture above and get a really cool look at the starred ceiling. It's reminiscent of the church that is pictured below: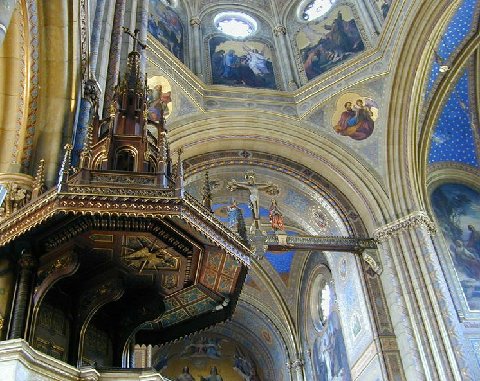 Go over to Shawn's post
and try to identify this church. Again, note the blue ceiling with white stars. Some thought Notre Dame in Montreal. I say no, only because the arches are pointed at the top (at Montreal, that is), like most Gothic-style churches.
This church, btw, I think, is drop-dead gorgeous!
Peace,
BMP